Why San Diego Scuba Guide?
Private / Semi-Private Classes only (1-2 students)

Scheduled at the time that is convenient for you;

Reschedule a missed class for FREE;

Mask, fins, gloves, hood and booties rental is included in the certification price;

Regulator, BC, wet suit, tanks and weights are included in the certification price;

Tuition, books, e-learning and certification processing fee are included in the price;

Took a Try SCUBA tour with us? Apply the cost of the tour towards your certification fee.

Underwater photos included.
Group Classes (5-6 students per instructor);

Pay extra for make up classes;

Mask, fins, gloves, hood and booties are not included in the certification price. Students have to purchase their own.

Rental charge applied for a regulator, BC, wet suit, tanks and weights;

Separate cost for tuition, books and e-learning and certification processing fee;

Pay for Try SCUBA and Scuba Diver Certification separately;

Extra charge for underwater photos.
SCUBA Diver
NAUI Scuba Diver $975.00
(semi-private, 1-2 students only)
Have you ever dreamed of being a SCUBA DIVER?  Of floating weightlessly underwater amid the beautiful coral reef and fish?  Of swimming with dolphins or finding that treasure chest full of gold?  Here's your chance to learn all the basic skills necessary to live your dream.
This is a fun and safe NAUI certification course that provides the fundamental knowledge and skills to scuba dive. Upon successful completion of this course, graduates are considered competent to engage in open water diving activities, provided the diving activities and sites dove, approximate those of training.
We rent only the BEST brands to insure you have the best experience while diving in what you would buy, not rental quality low end gear.
The Scuba Certification Course includes All Rentals, Certification Card and Books (No Hidden Costs).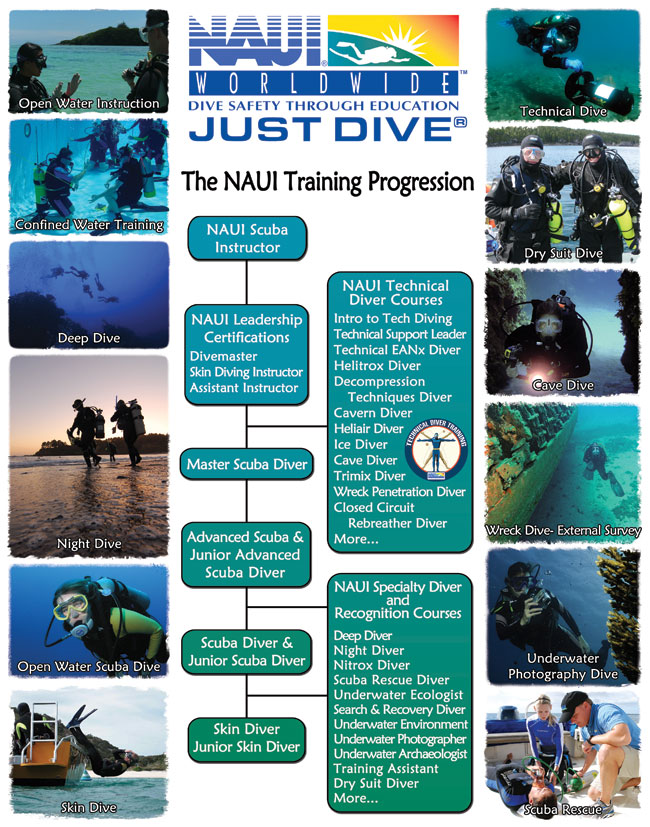 Advanced NAUI SCUBA Diver
Advanced NAUI SCUBA Diver $475.00
(semi-private, 1-2 students only)
This is a continuing education certification course for divers to expand their knowledge and experience in more diverse and challenging environments than what was experienced in the Basic Scuba class. It is an enjoyable program of continued supervised experience designed to introduce divers to a variety of diving activities and to be taught entirely in an open water setting. Types of dives include but are not limited to underwater navigation, night diving, deep diving, beach diving, and boat diving.
Rescue Diver
 CALL FOR PRICE
Are you ready to take the next step in your dive training? In the NAUI Rescue Diver course you will learn how to manage risks and effectively handle limited in-water problems and diving emergencies, how to assist and transport divers, and how to perform surface rescues and rescues from depth involving both boat and shore based skin and scuba divers.
Master Scuba Diver
 CALL FOR PRICE
Gain the in-depth knowledge that will establish you as a recognized authority in your diving club or group. Thrill to the adventure of open water dives in settings that will test your abilities to their limit while expanding your diving capabilities and experience. Then proudly carry the most coveted and respected certification card in recreational diving – that of the NAUI Master Scuba Diver.
The Master Scuba Diver course is a continuing education certification course for divers who wish to increase their understanding and enjoyment of diving. This course is an excellent progression toward NAUI Leadership roles.
Dive Master
 CALL FOR PRICE
NAUI Dive Master course will allow you to lead dives with certified divers, work on dive boats around the world and assist in the instruction of resort SCUBA certification classes. As a NAUI Divemaster you may find yourself leading dive tours in the Caribbean during the winter, and conducting recreational diving tours in California during the summer. Many divemasters are an integral part of the instruction process assisting with classroom lessons and pool training. The possibilities for employment are endless.
Testimonials


"San Diego Scuba Guide is an outstanding experience. Davor is an eminently qualified guide and instructor. I highly recommend San Diego Scuba Guide to anyone who wishes to explore and experience San Diego's jewel"
"Davor was easy-going and friendly. He provided tons of useful info and instruction, and tailored the dive to match my skill level. He was very knowledgeable about the La Jolla area, and gave good advice to move location due to conditions. He was even kind enough to jumpstart my car when it died at the first location"

*Participants must weigh at least 100 lbs and be 12 years of age or older, and not currently under a physician's care for diabetes, exercise induced asthma, heart disease, or chronic lung disease. People with body mass index (BMI) 30 or higher are recommended to consult their physician prior to participating in the scuba activities.
Directions
to SCUBA & Snorkeling Activities
Map to Day Dives
and Snorkel Tours
1160 Coast Blvd, La Jolla, CA 92037
Map to
Night Dives
10389 Vallecitos La Jolla, CA 92037
Map to SCUBA Adventure
and SCUBA Refresher 
2600 Bayside Ln San Diego, CA, 92109