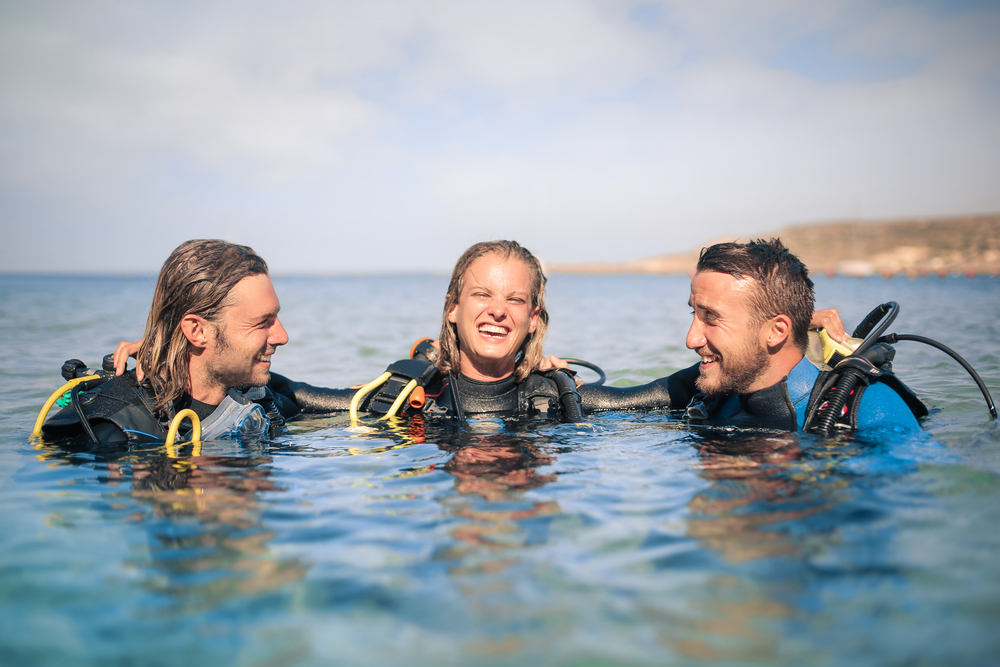 Day Dives
Guided Dive at La Jolla Cove for certified divers:
$80.00 (1 tank dive)
$150.00 (2 tank dive)
San Diego Scuba Guide provides daily guided dives to the renowned La Jolla Cove Ecological Reserve. You can relax knowing that the experienced certified NAUI Instructor will keep you safe while you enjoy the best shore diving experience Southern California has to offer. The maximum depth for the La Jolla Cove shore dive is 45 feet.
La Jolla Cove
La Jolla Cove is a very small beach, tucked between sandstone cliffs. Because of its extraordinary beauty, La Jolla Cove is one of the most photographed beaches in Southern California. With small surf in the summer months, the north facing La Jolla Cove is ideal for swimmers, snorkelers and scuba divers, underwater photographers, videographers, deep divers and night divers alike. Water visibility at the Cove can sometimes exceed 30 feet.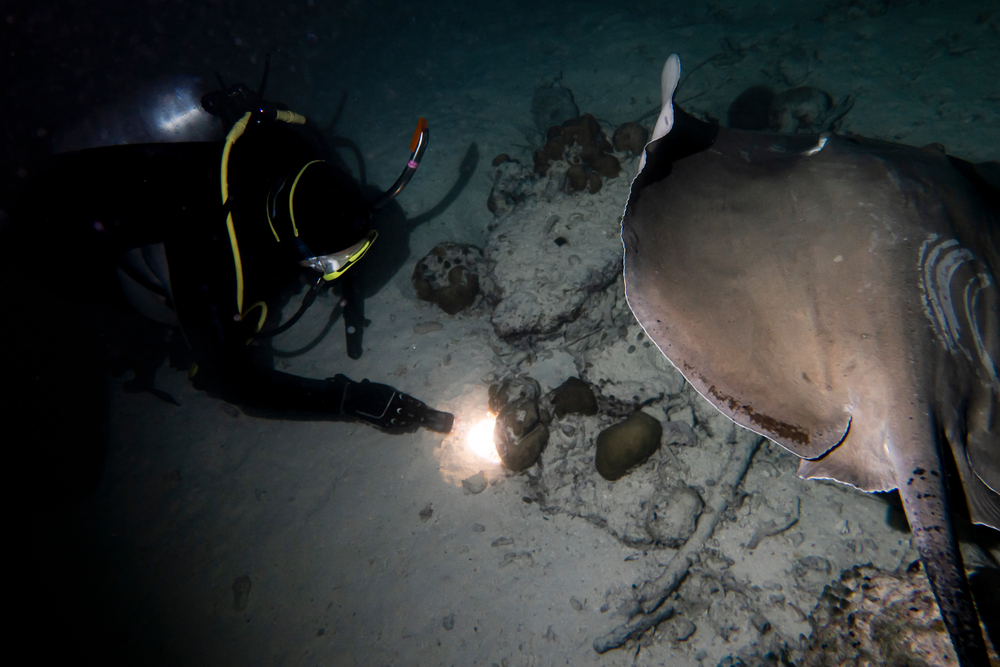 Night Dives
Guided Dive at La Jolla Shores for certified divers:
$90.00 (1 tank dive)
$170.00 (2 tank, sunset & night)
Join us for a guided night dive at the world famous La Jolla Canyon, a 60 to 80 ft. dive. The Canyon dive is loved for a chance to enjoy good visibility all year round.  It is full of exciting encounters with amazing canyon creatures: octopuses, sheep crabs, lobsters, bat rays, nudibranches, squid and many more.
La Jolla Shores
La Jolla Shores is located in beautiful La Jolla, California. This beach is a popular destination for tourists, surfers and divers. It is a sandy beach approximately one mile long. In summer, waves at this beach are usually the most gentle of all San Diego beaches. La Jolla Shores lies adjacent to the San Diego La Jolla Underwater Park Ecological Reserve. For these reasons, many novice scuba classes are held at La Jolla Shores.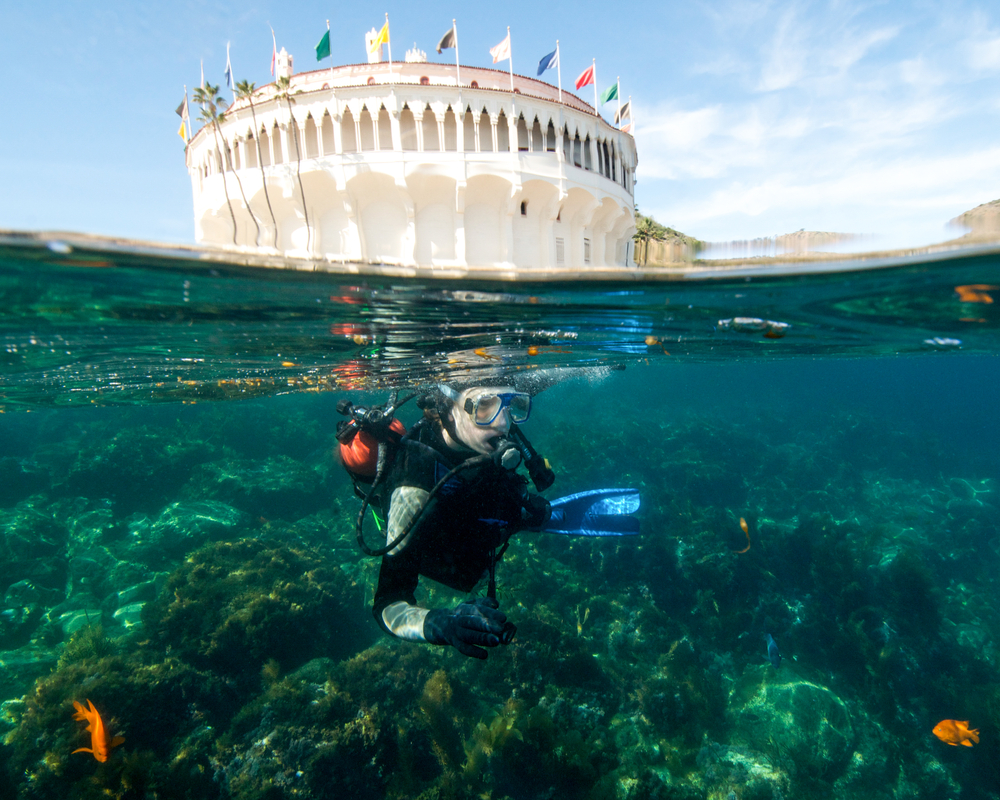 Catalina Daily Trip
Diving at Catalina – Casino Point
We offer a scuba trip to Catalina Island all year round. This trip includes ground and ferry transportation.
San Diego – Catalina – San Diego
Full rental equipment
Two private guided dives
This trip is considered a "Private Tour" – "all-inclusive" and is limited to a maximum of 3 divers. Call or text 1-858-397-8213 today to make a reservation!
Rentals
SCUBA Rentals – $70.00
Complete SCUBA gear rental including 7 mm wet suit is available for $70.00 a day with a purchase of a guided dive excursion. Join us for another dive within 24 hours after your tour and pay only once for your rental equipment! What is included?
Regulator, Analog Depth and Pressure Gauge & Compass

7 mm Scuba Wet Suit (S-XXL)

Tank and weights are included in the price of the guided dive
IMPORTANT!
We carry 7 mm wetsuits in sizes from Small to XXL. If you require a different size, please contact us at [email protected] or call (858) 397-8213 before making your reservations.
Testimonials


"San Diego Scuba Guide is an outstanding experience. Davor is an eminently qualified guide and instructor. I highly recommend San Diego Scuba Guide to anyone who wishes to explore and experience San Diego's jewel"
"Davor was easy-going and friendly. He provided tons of useful info and instruction, and tailored the dive to match my skill level. He was very knowledgeable about the La Jolla area, and gave good advice to move location due to conditions. He was even kind enough to jumpstart my car when it died at the first location"
*Proof of valid certification card required to join our Guided SCUBA tour. We accept NAUI, PADI, SSI, BSAC, CMAS, etc. If you are not a certified diver join our Scuba Adventure for non-divers.
Directions
to SCUBA & Snorkeling Activities
Map to Day Dives
and Snorkel Tours
1160 Coast Blvd, La Jolla, CA 92037
Map to
Night Dives
10389 Vallecitos La Jolla, CA 92037
Map to SCUBA Adventure
and SCUBA Refresher 
2600 Bayside Ln San Diego, CA, 92109